Diamond tennis necklaces possess a timeless quality which makes them the perfect choice for elevating any outfit, and their enduring allure has captivated people throughout history. This blog post will explore why these stunning pieces are so sought-after and provide tips on how to select the ideal necklace style as well as advice on caring for it in order to make your classic tennis necklace lasts.
Key Takeaways
Diamond tennis necklaces have a classic and timeless design that exudes sophistication and luxury.

Consider factors such as design, length, size & personal preferences when choosing the right style for you.

Appropriate care is essential to preserving its value, sparkle & longevity - seek professional help for cleaning, polishing & re-stringing.
The Timeless Appeal of Diamond Tennis Necklaces
Diamond tennis necklaces are classic and timeless, creating a bold statement that captures the eye and heart. With its uninterrupted line of diamonds, these elegant pieces can be worn alone or layered with other chains for extra jewelry flair.
Designers have crafted an array of styles from traditional round to hexagon 18-karat yellow gold settings so it's easy to find one perfect for expressing your love for fine jewelry. These stunning necklaces add sophistication and luxury without fail, no matter what design you choose!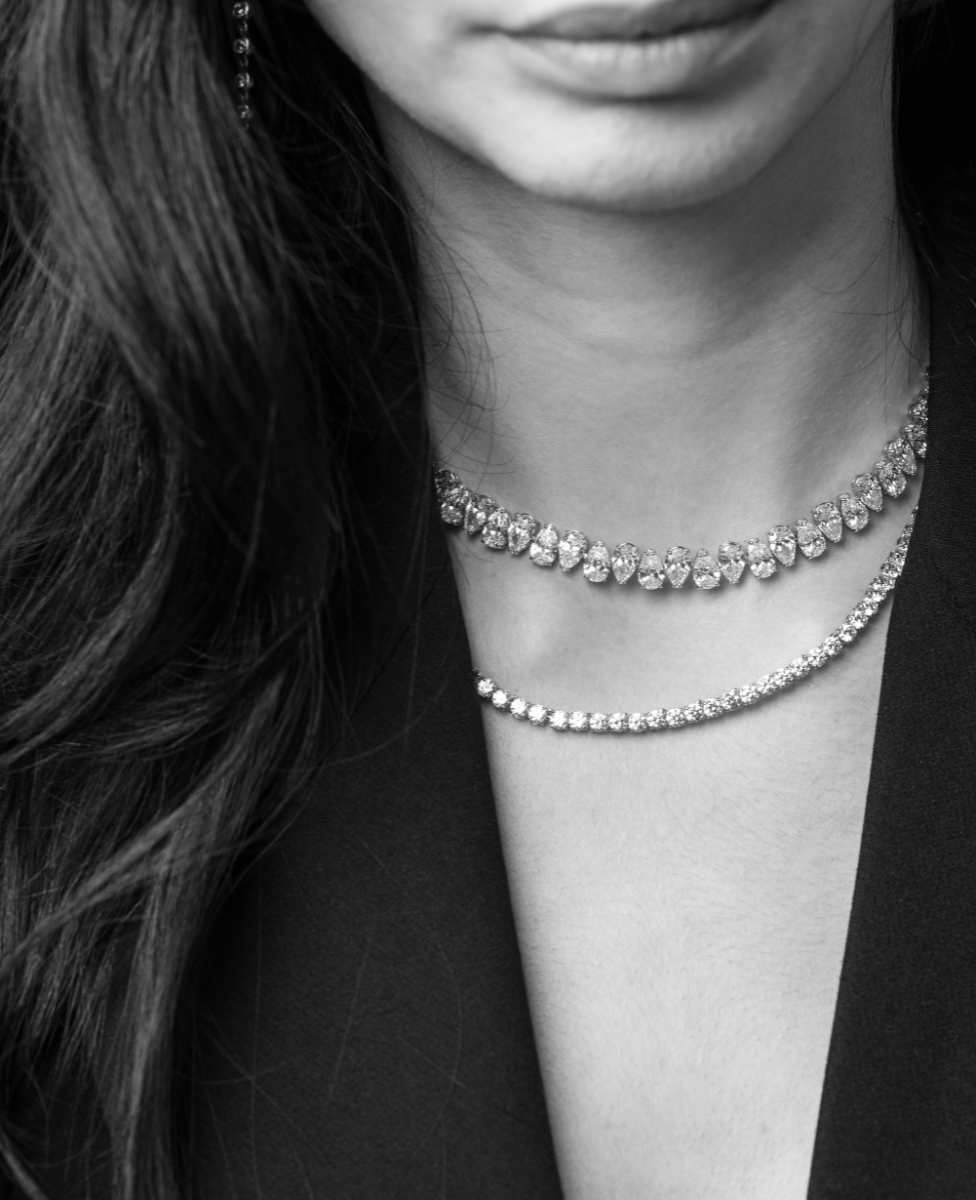 Layered look of GOODSTONE's Diamond Necklaces
The Origin of Tennis Necklaces
Tennis necklaces have been worn for fashionable purposes since the 1920s, but their connection to tennis began in 1987 when Chris Evert's diamond bracelet snapped during a game. The famous player referred to it as her "tennis bracelet" and this sparked an upsurge of interest in similar pieces of jewelry - namely classic tennis necklaces which are slightly shorter than normal and sit close around the wearer's throat.
Differentiating these from Riviere-style necklace designs, which often consist of several graduated diamonds extending outwards from one large central stone – a timelessly elegant look is achieved with both styles despite subtle variations between them (sometimes called Graduated Tennis Necklaces). And throughout all its history, magnificent diamonds remain at the core design element that makes any type of necklace shine!
Choosing the Right Style for You
Finding the ideal diamond tennis necklace entails examining key elements such as design, size and length. With a multitude of styles to choose from including: three-prong setting, baguette cut diamonds, pear shaped diamonds, oval cut diamonds or bezel setting. It can seem daunting. Knowledge about classic versus contemporary looks combined with familiarity regarding how long the piece should hang around one's neck and its individual dimensions is vital in obtaining an accessory that will enhance your personal jewelry collection for many years to come. Looking closely at what you like wearing on different occasions alongside taking into account body shape allows one to make a decision which completes their perfect diamond tennis necklace purchase.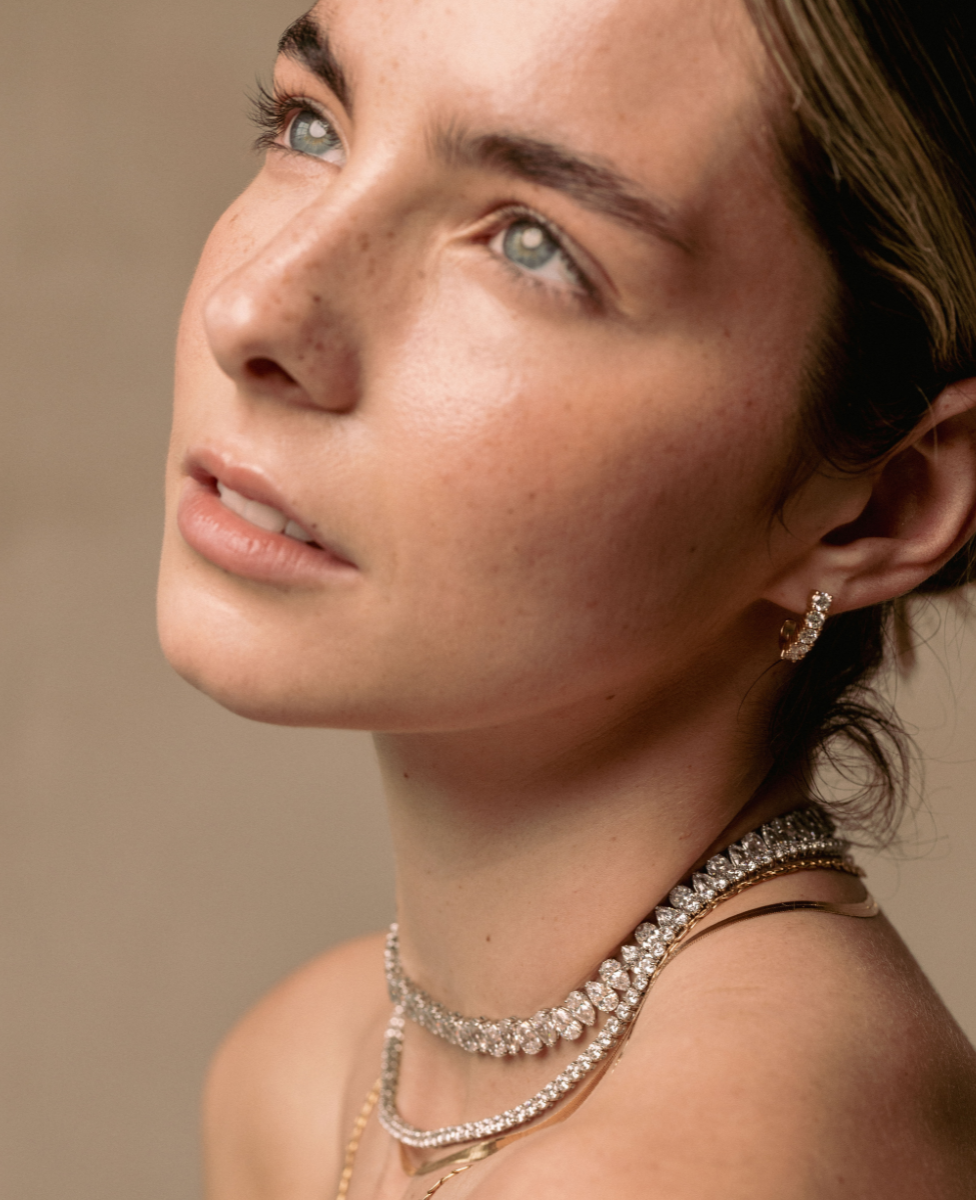 Classic vs. Contemporary Designs
When shopping for a diamond tennis necklace, one must consider whether they want the classic look that reflects timeless elegance or something more modern. Classic designs often feature diamonds set in a single strand along a continuous row. While contemporary styles may include clustered arrangements and settings like three-pronged bags cut, perfect to dress up any age. For even more unique necklaces with innovation at their forefront, we've crafted pieces using 14-karat or 18-karat recycled gold that holds its gems safely without flipover issues. Knowing these distinctions allows you to select an accessory whose style suits your individual taste perfectly.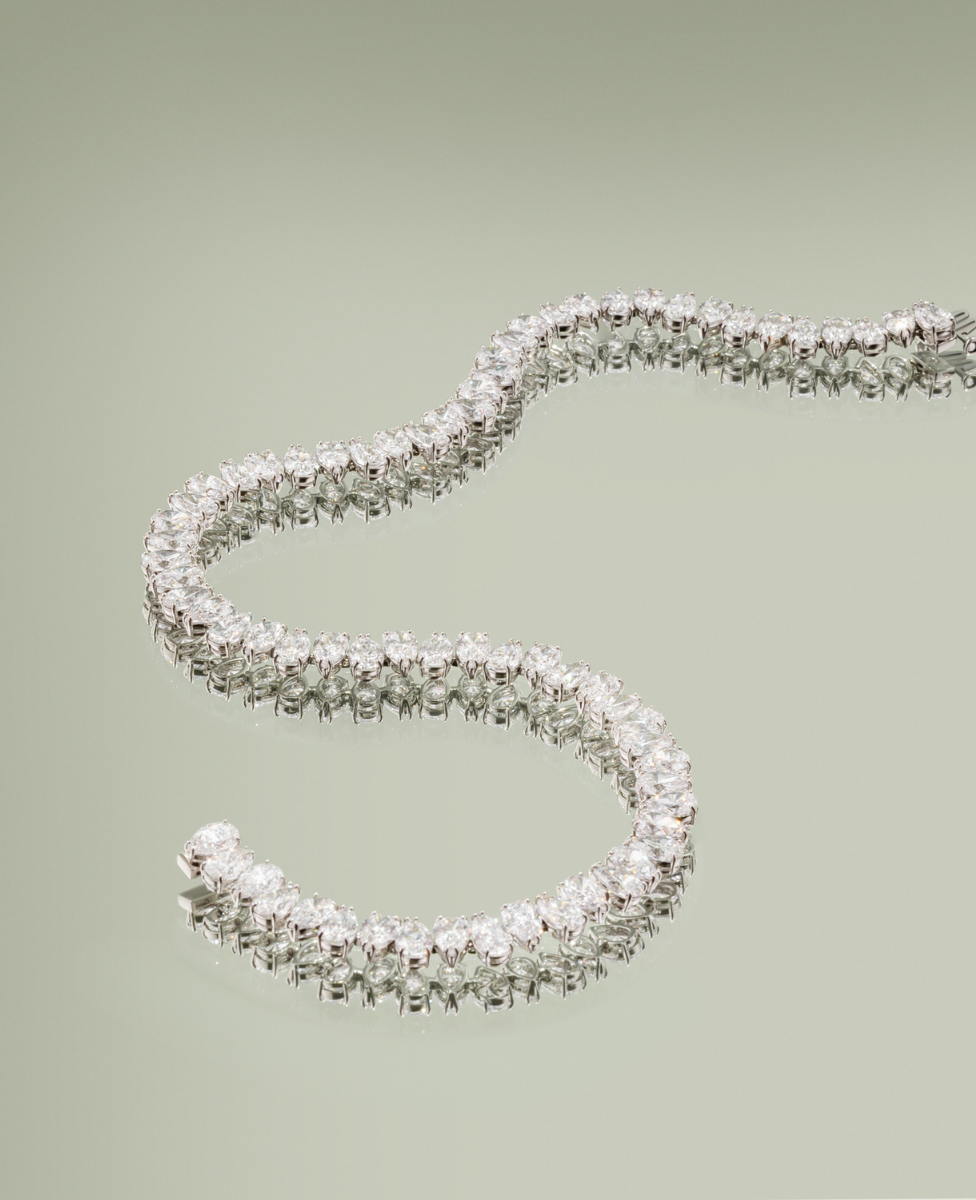 Drop jaws eveywhere you go with the GOODSTONE Pear Diamond Choker Necklace
Length and Size Considerations
When selecting a diamond tennis necklace, length and size must be considered as it will affect its fit on the wearer's body. Such necklaces come in many lengths ranging from 14 to 24 inches. To make sure you get one that fits just right, measure the distance between the clasp and the end of the necklace beforehand. Ultimately, this should ensure that your chosen diamond tennis necklace emphasizes all of your unique features perfectly.
How to Wear a Diamond Tennis Necklace
Diamond tennis necklaces offer versatility and timeless beauty, allowing wearers to style them according to the occasion. To craft a perfect look, incorporate classic pieces such as pendants or mix it up with layering different chains for an eye-catching ensemble. By using unique earrings to coordinate their diamond necklace, they can create a personalized statement that enhances any outfit from formal wear to casual styles. One of the most popular trends is pairing two separate necklaces in order to produce an individualistic fashion. When styling your own diamond tennis necklace, discover all its potential by experimenting with various techniques so you have endless ways of showcasing this majestic accessory!
Casual Outfits
The perfect combination of casual and glamorous, a diamond tennis necklace can be the highlight of any outfit. To allow this statement piece to take center stage, you may style it with neutral toned clothing. Alternatively, layer your necklace with other delicate accessories or opt for an art-deco inspired pendant adding class in abundance. For formal occasions, a blazer might complete the look perfectly while wearing it on more causal days alongside collared shirts makes sure there is no exception when considering elegance along timelessness. Combining these elements makes certain that your diamond tennis necklace will definitely bring out its intended chic appeal.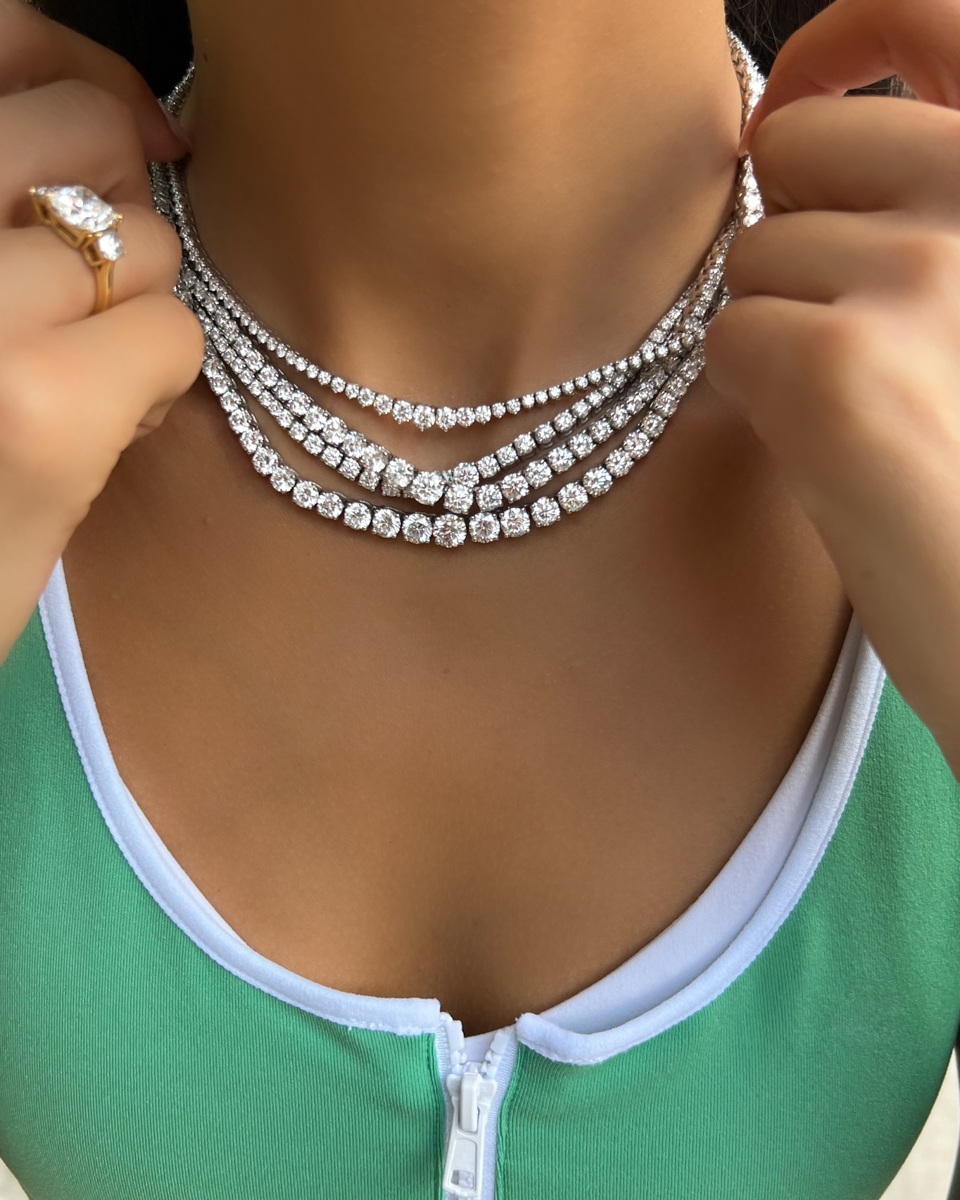 With GOODSTONE Tennis Necklaces, more is more.
Formal Events
When looking to accessorize for a formal occasion, the perfect piece is a diamond tennis necklace. Think about selecting an elegant and classic style in terms of length and size that will make your outfit stand out at this special event. You could create some modern flair by wearing multiple necklaces with different metals, which would provide texture as well as draw attention to the beauty of the diamond chain itself. The appropriate styling ensures your look has just the right touch for any formal affair!
Layering and Mixing Metals
Combining diamonds and different metals to layer a tennis necklace is an innovative way of developing your individual style. Incorporate this idea with various necklaces and other pieces for extra texture during the day or use more fashionable chains to add flair in order to achieve distinctiveness that celebrates your own fashion sense as well as the timelessness of diamond jewelry. Mixing it up provides immense creative opportunities allowing you to express yourself through unique touches so wear proudly what symbolizes who you are at all times.
Caring for Your Diamond Tennis Necklace
Maintaining your diamond tennis necklace is essential to ensure it retains its beauty and value for years. You should be conscious of what chemicals or materials you use when cleaning, as harsh products can cause harm. Lotions and water (i.e., showering) are not recommended while wearing the jewelry piece. Proper care also includes taking off the necklace before engaging in any activities that might damage it over time. Taking a bit more effort into caring for this treasured part of your collection will pay dividends later on down the road.
Cleaning and Storage
It is essential to properly maintain and store your diamond tennis necklace if you want it to remain a beautiful accessory in your collection. When cleaning the piece, soak it in an equal solution of dish soap and cold water then carefully pat dry with a cloth or paper towel. Avoid using any harsh chemicals that could cause irreparable damage to the jewelry while scrubbing should be done gently by using either specialized cleaners or soap/water along with a soft toothbrush. Handling this necklace delicately will help guarantee its shimmering brilliance stays intact for years to come!
Professional Maintenance
When it comes to looking after your diamond tennis necklace, proper care both at home and from a professional jeweler is crucial. A specialist should be consulted periodically for tasks such as cleaning, polishing or restringing if any damage has occurred or more extensive maintenance is needed. Professional servicing will ensure the preservation of its beauty and value in the years ahead so it can remain one-of-a-kind. To that, everyday upkeep requires you taking special attention with regards to this specific item of jewelry. Considering regular brushings along with avoiding harsh chemicals when dealing with your necklace may go some way towards prolonging its lifespan considerably too!
Summary
Diamond tennis necklaces are the perfect way to add an air of sophistication and elegance to any ensemble. Their long-lasting charm has captured the hearts of people through generations, making them timeless pieces that have held up even as fashion trends shifted over time. With a variety of styles available for wearing and taking care of these exquisite items, diamond tennis necklaces truly make stunning additions to anyone's jewelry collection.
Frequently Asked Questions
Can you wear a diamond tennis necklace everyday?
A diamond tennis necklace is a great piece to wear every day, as it has the potential for all kinds of occasions. You can add this accessory into your look effortlessly and take advantage of its versatility without compromising style.
Why does my diamond tennis necklace keep flipping?
If you want to add some extra sparkle and prevent your diamond tennis necklace from flipping, increasing the carat size or having a jeweler solder it is an excellent option. Doing so will make the piece heavier thereby keeping it in place better.
Why is it called tennis necklace?
The Tennis necklace, inspired by the legendary tennis player Chris Evert's diamond bracelet, which went missing during a US Open match in 1987, is an accessory designed to commemorate her legacy. Featuring diamonds and elegant design elements true to its nameake, it has since become quite popular among jewelry fans.
What does tennis for the necklace mean?
Tennis necklaces, an elegant and classic piece of jewelry, feature a strand of diamonds that wrap around the wearer's neck. This creates a captivating look using both small or large diamond stones for added impact.