Oval engagement rings captivate hearts with their unique shape, timeless appeal, and versatility. As their popularity continues to soar, finding the perfect wedding band to match becomes increasingly important. This comprehensive guide will walk you through the essential factors to consider, popular styles, customization options, and helpful shopping tips to help you choose the best oval engagement ring with the best wedding band.
Short Summary
Oval engagement rings offer a unique and timeless alternative to round diamonds, with symbolism and history associated with them.

When selecting an oval engagement ring's wedding band, style compatibility, metal type, width & design must be taken into account for a cohesive look.

Popular styles include curved (aka "contoured") designs or diamond accents. Customizing your set allows you to create meaningful symbols of love that can be cherished for generations.
The Allure of Oval Engagement Rings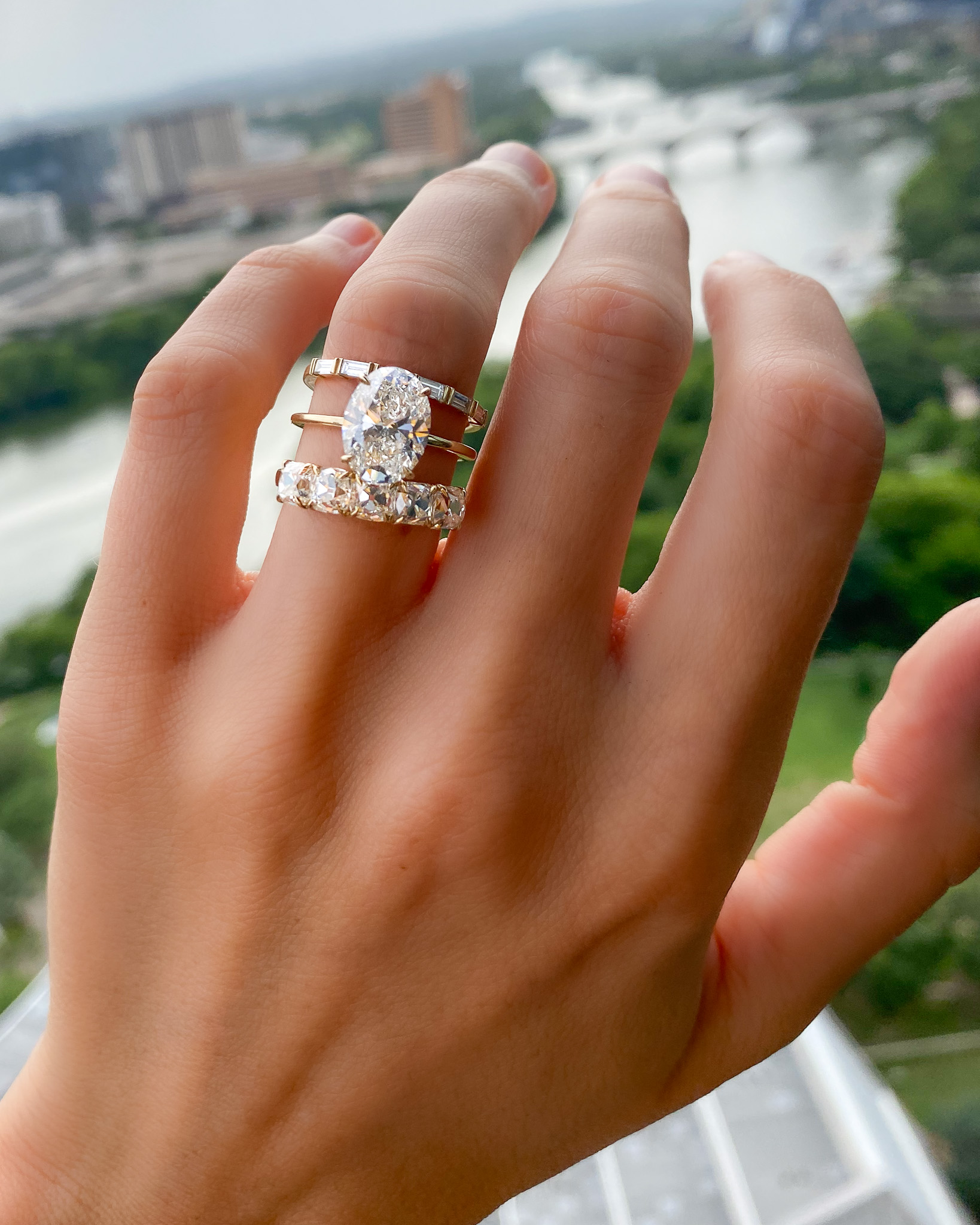 Elongate your finger with an Oval Engagement ring.
Oval engagement rings have become increasingly sought-after, offering a stunning visual effect on the finger due to their unique elongated shape. This elongated shape is often appreciated as a more flattering diamond shape because it elongates the bride's finger.
Beyond that, the oval engagement ring is seen as a safe yet slightly less traditional version of a round diamond ring. Because of it's beautiful curvature & brilliant faceting, it can be compared to a slightly stretched round diamond.
Symbolism and History Behind Oval Engagement Rings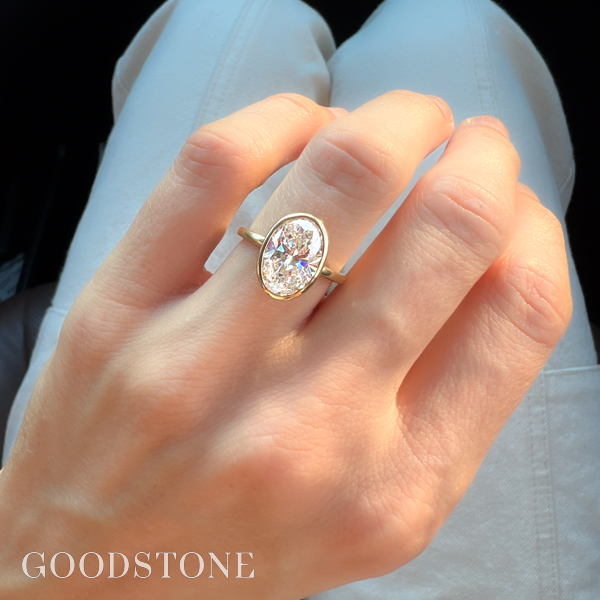 A delicate Bezel solitaire with a 3 carat Oval diamond
Oval engagement rings hold much symbolism, embodying love, unity and balance. The oval shape is often linked with ideas of eternal devotion and commitment – which intensifies the special meaning put behind these stunning pieces. Their roots can be traced back to Victorian times when they were a popular choice among royal families due to their sophisticated look. This rich history adds sentimental value as couples are drawn towards this classic style for its timeless charm.
To really capture the connection between two people exchanging vows, it's important that you find an equally beautiful wedding band that works in perfect harmony with your ring - creating an unforgettable symbol of long-lasting love.
Key Factors to Consider When Pairing an Oval Engagement Ring with a Wedding Band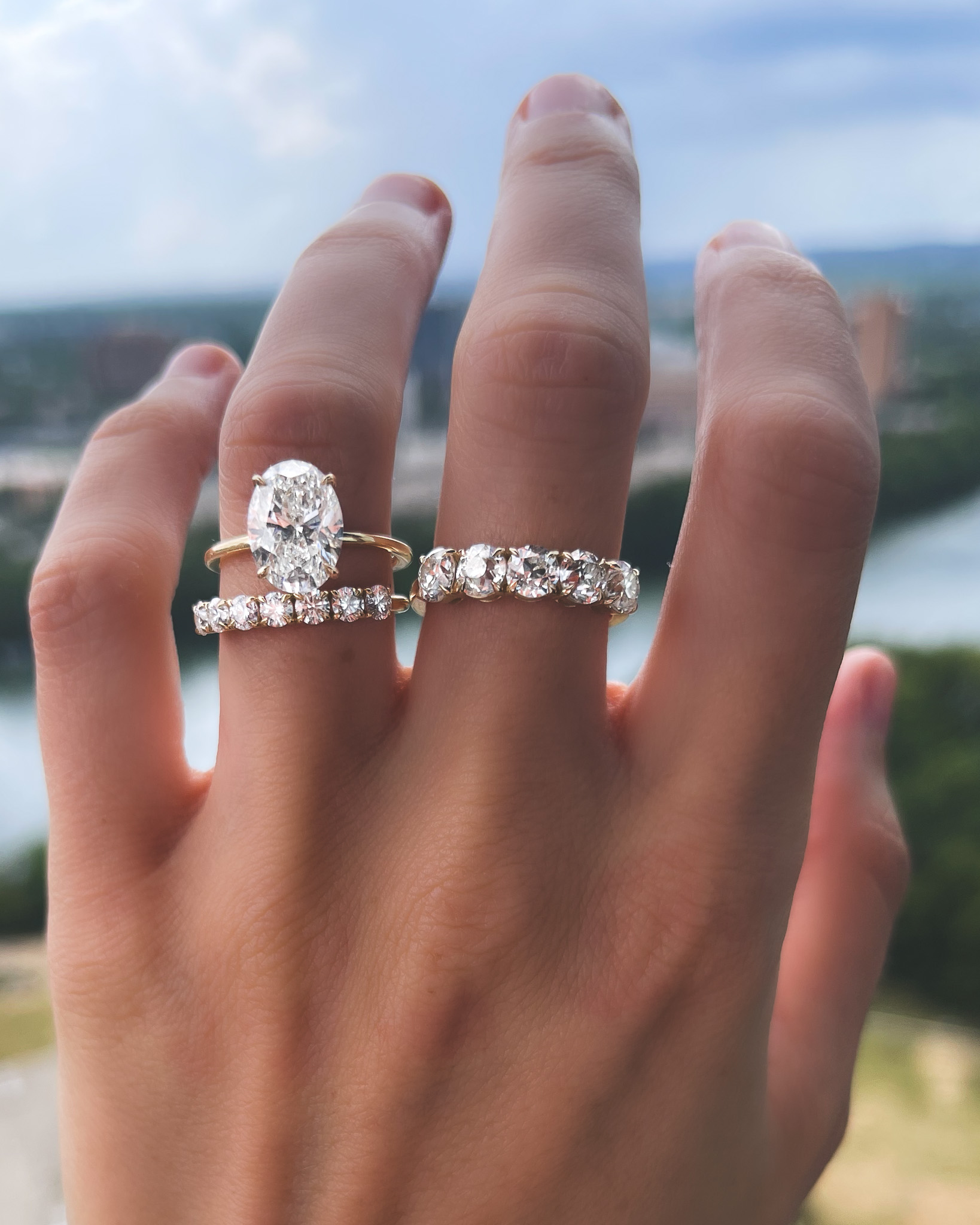 Our Thin & Simple solitaire with an Oval diamond, paired with a matching wedding band.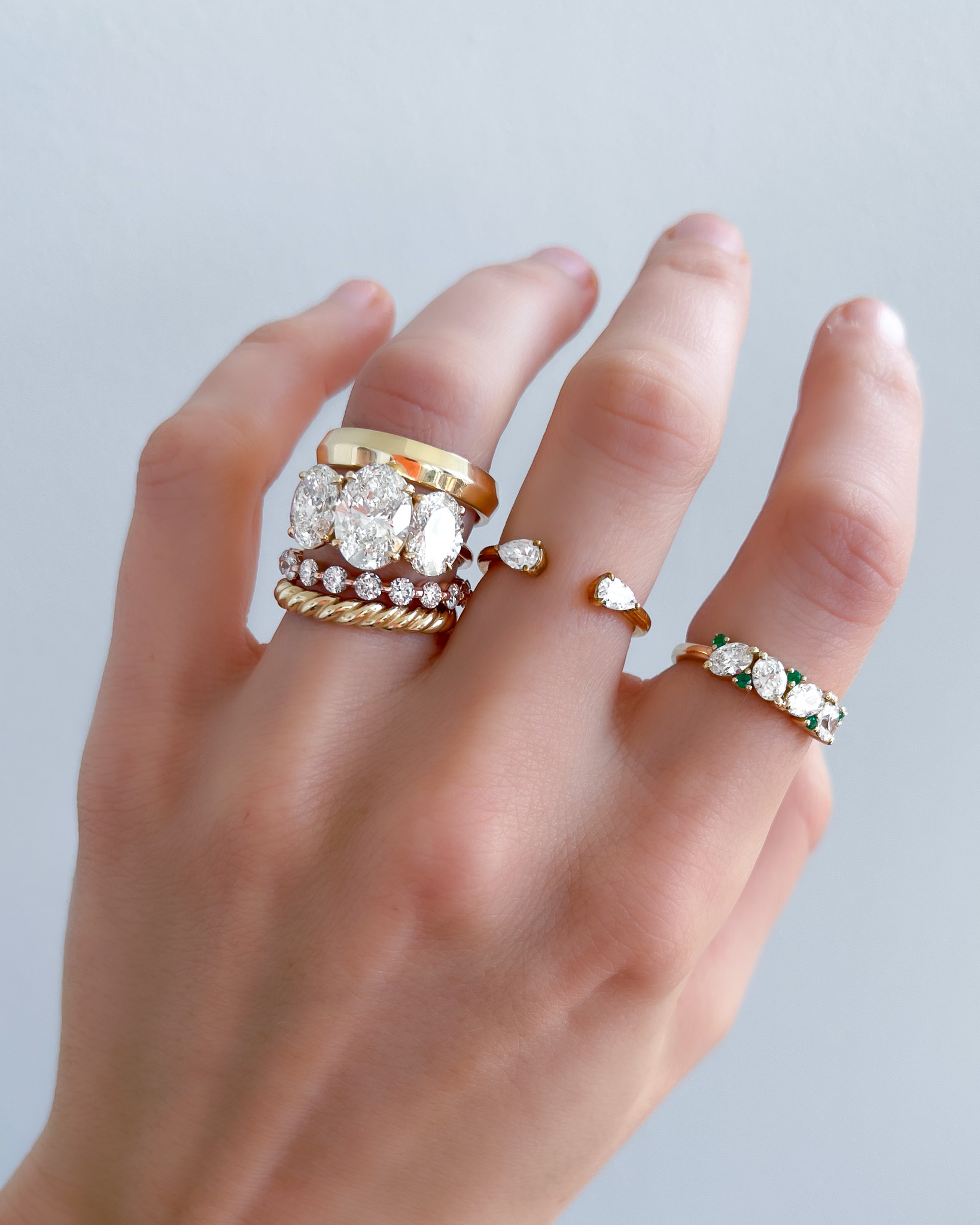 Even a big engagement ring can handle the correct wedding band pairing. Book your call with our Diamond experts to discuss how to pair your engagement ring.
When it comes to matching an oval engagement ring with a wedding band, there are some key elements that need attention in order for the two pieces to create a unified and pleasing aesthetic. Style compatibility, metal type used and physical fit of the jewelry should be taken into account when choosing your perfect wedding band pairings to complement your oval-cut diamond centerpiece. We will discuss how these factors play integral roles in creating successful pairings between rings.
Style Compatibility
It is essential to ensure that the engagement and wedding bands styles are in harmony with one another, creating a unified look. An oval cut diamond ring provides you with an extensive range of choices for a matching wedding band such as a wedding bands with smaller oval diamonds or even a plain band that matches the shank of the engagement ring. For engagement rings with melee on the band or unique design features, we always look to include and/or match them when creating matching wedding bands.
Ultimately picking out a style should reflect your unique tastes. Make sure to pick something combining both complementary aspects of the engagement and wedding ring set, and expressing yourself simultaneously.
Metal Type
When it comes to picking the right wedding band, coordinating with or complementing your engagement ring is essential. Popular choices of metal include yellow gold, white gold, rose gold, and platinum.
There are typically two main options: choosing the matching metal or choosing a contrasting color metal. Examples include pairing your platinum oval engagement ring with a platinum wedding band... or mixing it up contrasting the engagement ring with a yellow gold wedding band. We're firm believers that matching metals is always safe & that white gold/platinum matches well with yellow gold orrose gold. We don't recommend mixing rose gold and yellow gold as the pairing lacks contrast.
Ultimately though, it all boils down to what appeals personally so pick accordingly!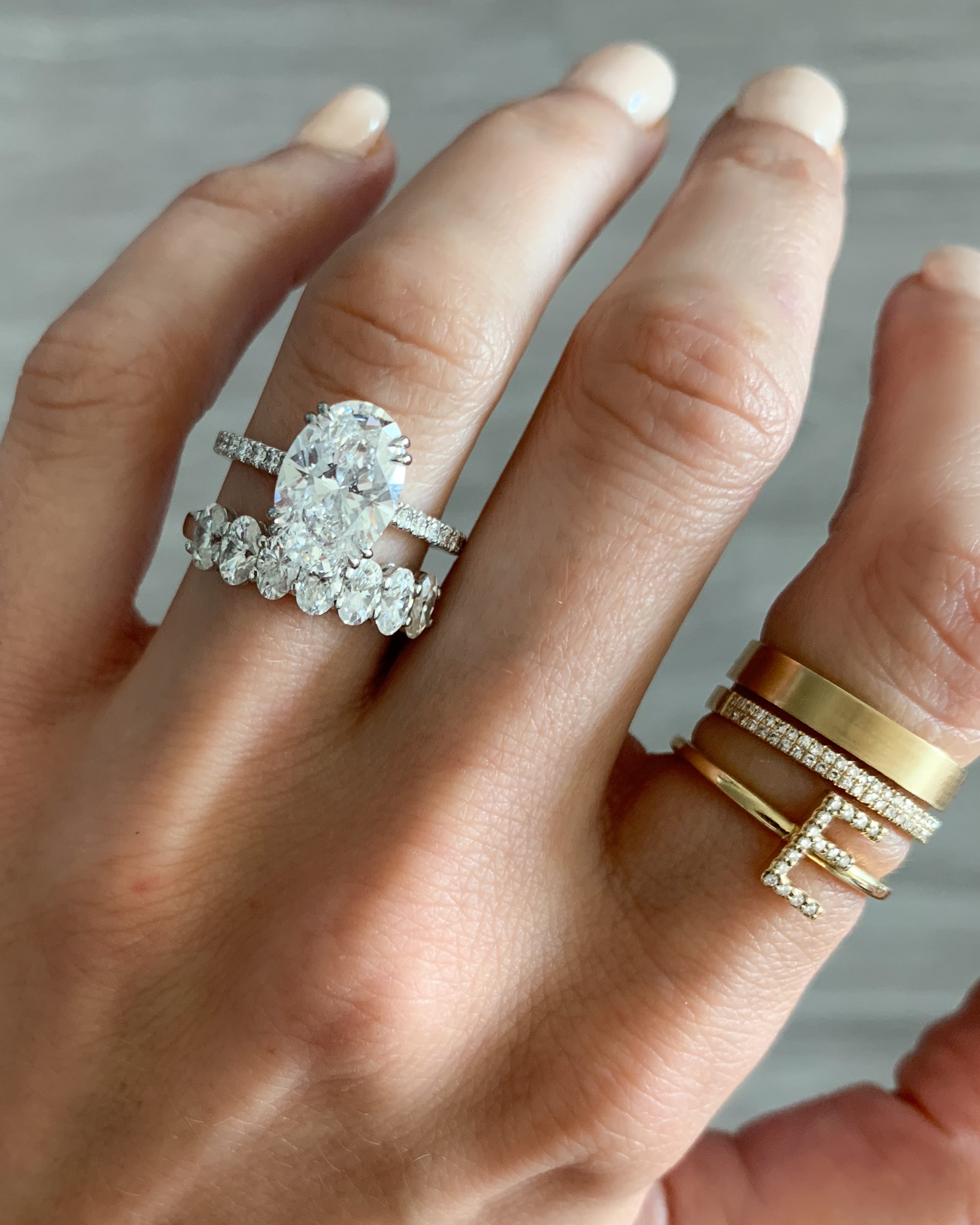 Never wrong rocking Oval diamonds with more Ovals diamonds
Width and Band Fit
When looking for the perfect wedding band to go with an oval engagement ring, the band's width relative to the engagement ring band andthe way it sits alongside the ring must be considered. We're big fans of width multiples... which means the band should be about the same width of the engagement ring, 2x the width of the engagement ring, or even 3x depending on the rings.
By band fit, we're answering the question "Do the rings sit flush?" an fit comfortably. Some engagement rings are set a little low & prevent any wedding band from sitting flush. This is okay. If this is your ring, a contoured band that curves around your engagement ring is a great option. Alternatively, you can lean into the gap with a tasteful straight wedding band that still fits comfortably.
Popular Wedding Band Styles for Oval Engagement Rings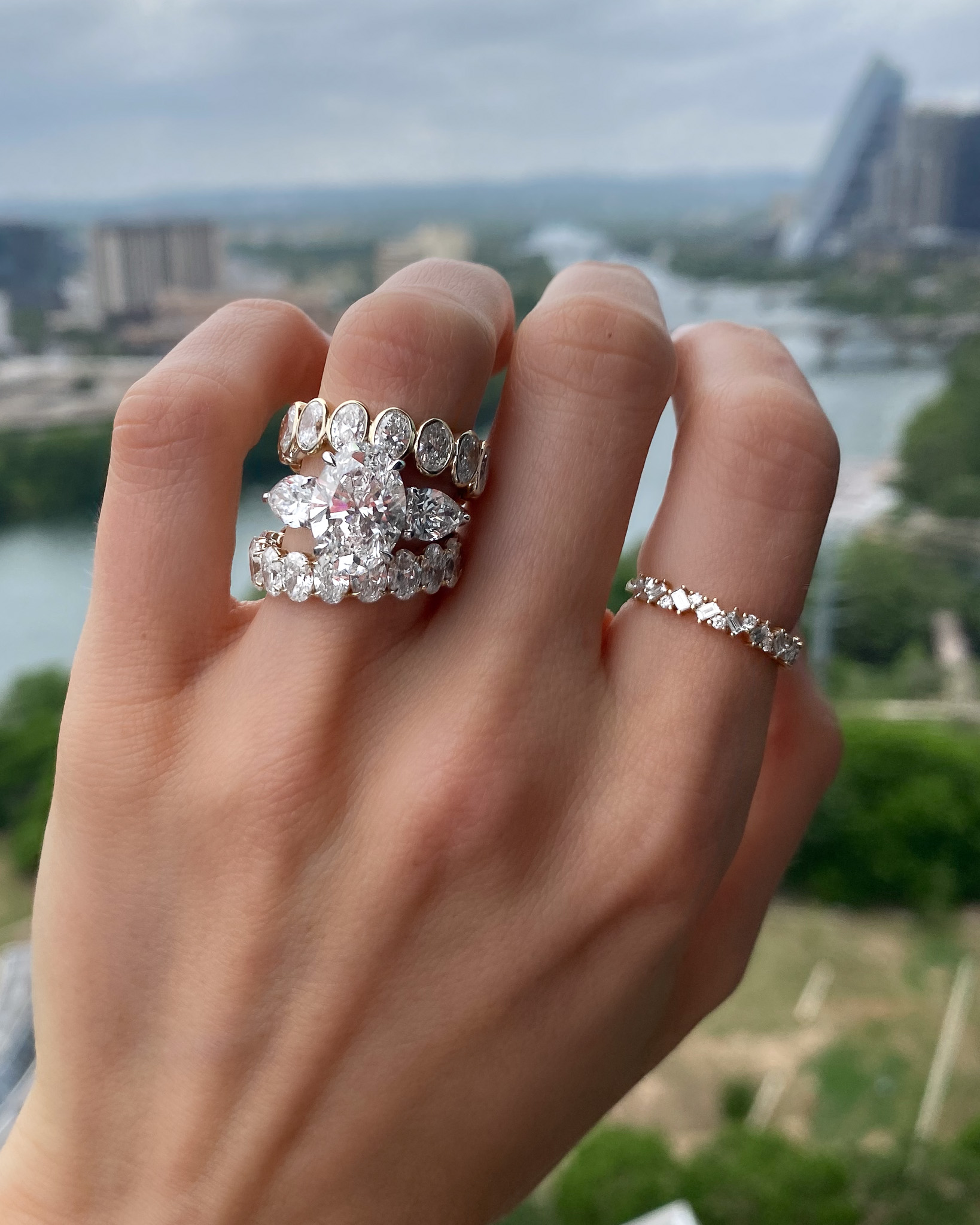 When pairing your ovals, you can choose any setting style you love. Featuring our Claw Set Eternity band with Oval diamonds & Bezel Set Eternity Band With Oval diamonds
Searching for the ideal wedding band to suit your oval engagement ring can be aided by looking at popular styles. First and foremost, we're big fans of pairing oval engagement rings with wedding bands set with little oval diamonds. The smaller diamonds give a nod to your engagement ring's center stone by maintaining the motif, but don't steal the show. Remember, a good wedding band is a compliment to your engagement ring, not the focal point
By incorporating smaller oval diamonds into your wedding band, you're giving yourself the option to leave your engagement ring at home while traveling or running errands while still flashing some oval diamonds. This way, the two rings will look great together and alone.
Our favorite oval wedding bands typically feature shared prong settings or claw settings to show off the little diamond's shape.
Alternatively, you can always pair your oval engagement ring with a wedding band set with round diamonds. Because both diamond shapes are brilliantly faceted, you're maintaining strong sparkle across the whole wedding set.
By examining different designs along with what you personally prefer when it comes to style, you'll find the best match for your ring among them all!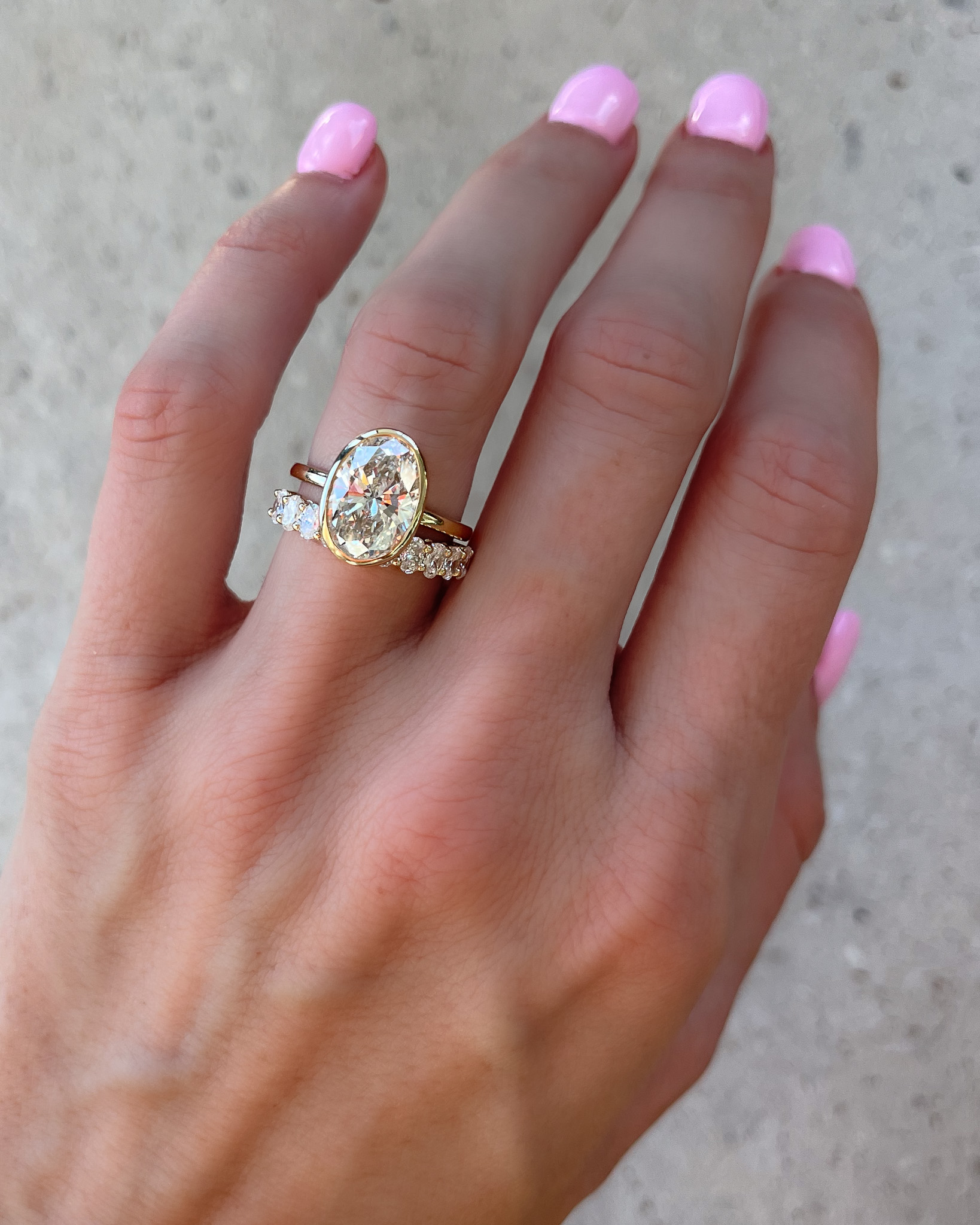 A GOODSTONE Bezel solitaire worn alongside our Petite Shared Prong Wedding Band with Oval diamonds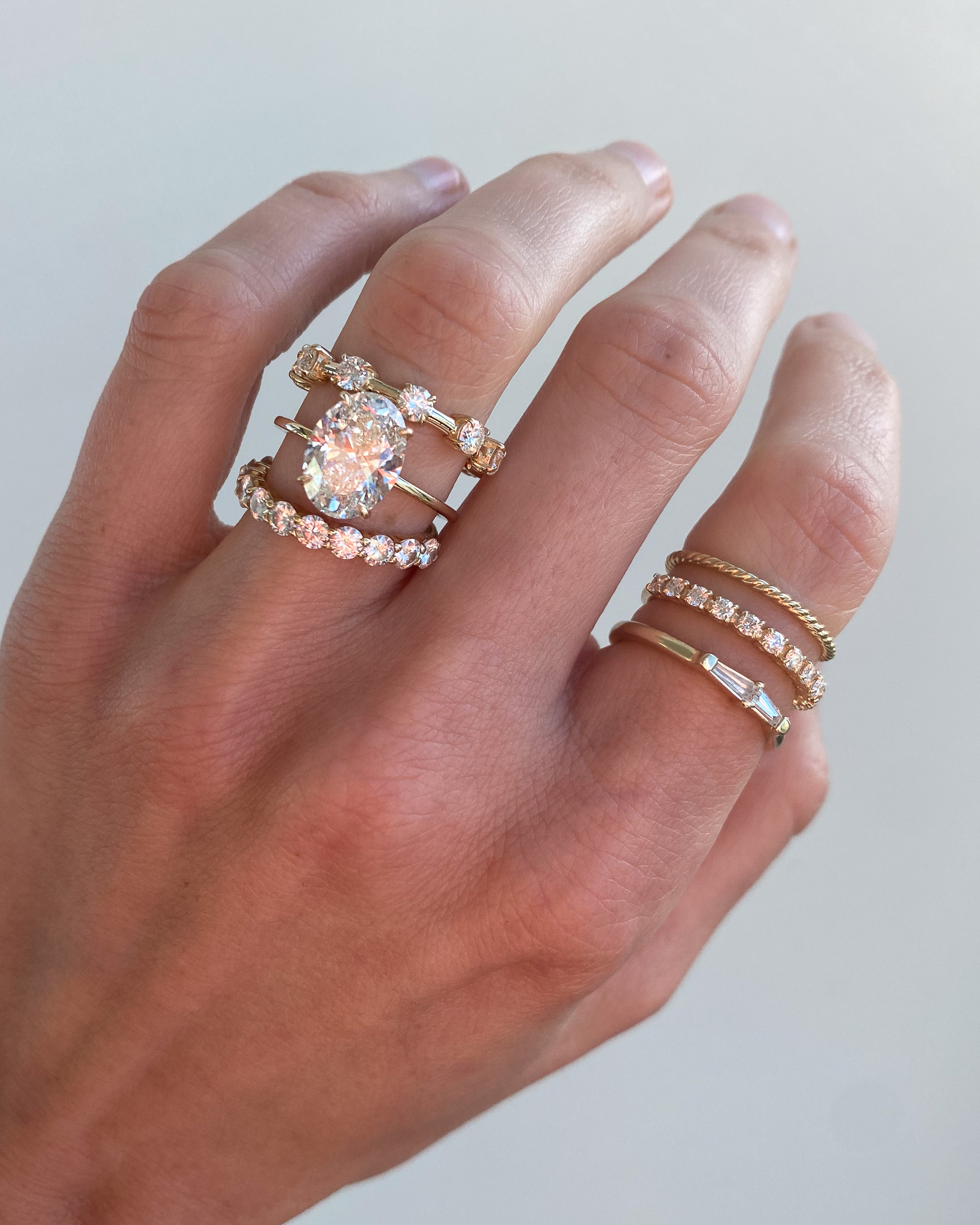 Why pair one wedding band when you can sport two?
Customizing Your Oval Engagement Ring and Wedding Band Set
When designing an engagement ring and wedding band set for your special day, it's possible to make a one-of-a-kind combo that is as unique as you are. Working with Goodstone, you can create rings that reflect your individual style while representing the love story between two people. For instance, adding engravings or burnished set gems inside the band of each piece adds personal touches, while also creating something meaningful and sentimental. These intricate details result in genuine heirloom pieces that will last through generations!
Caring for and Maintaining Your Oval Engagement Ring and Wedding Band
It is essential to maintain your oval engagement ring and wedding band in order for them to stay beautiful forever. Cleaning, polishing, inspecting regularly can help preserve the brilliance of these rings while keeping their stunning look.
We recommend giving the oval diamond and wedding ring a nice scrub with a toothbrush and (gasp) dish soap once a week. This will not only keep the diamonds clean and super sparkly, but it'll also prevent oils from loosening the prongs' grip on your diamonds. As you can imagine, this mitigated lost diamonds.
With proper care, you will make sure both rings retain their elegance even after many years have passed from when they first adorned your finger!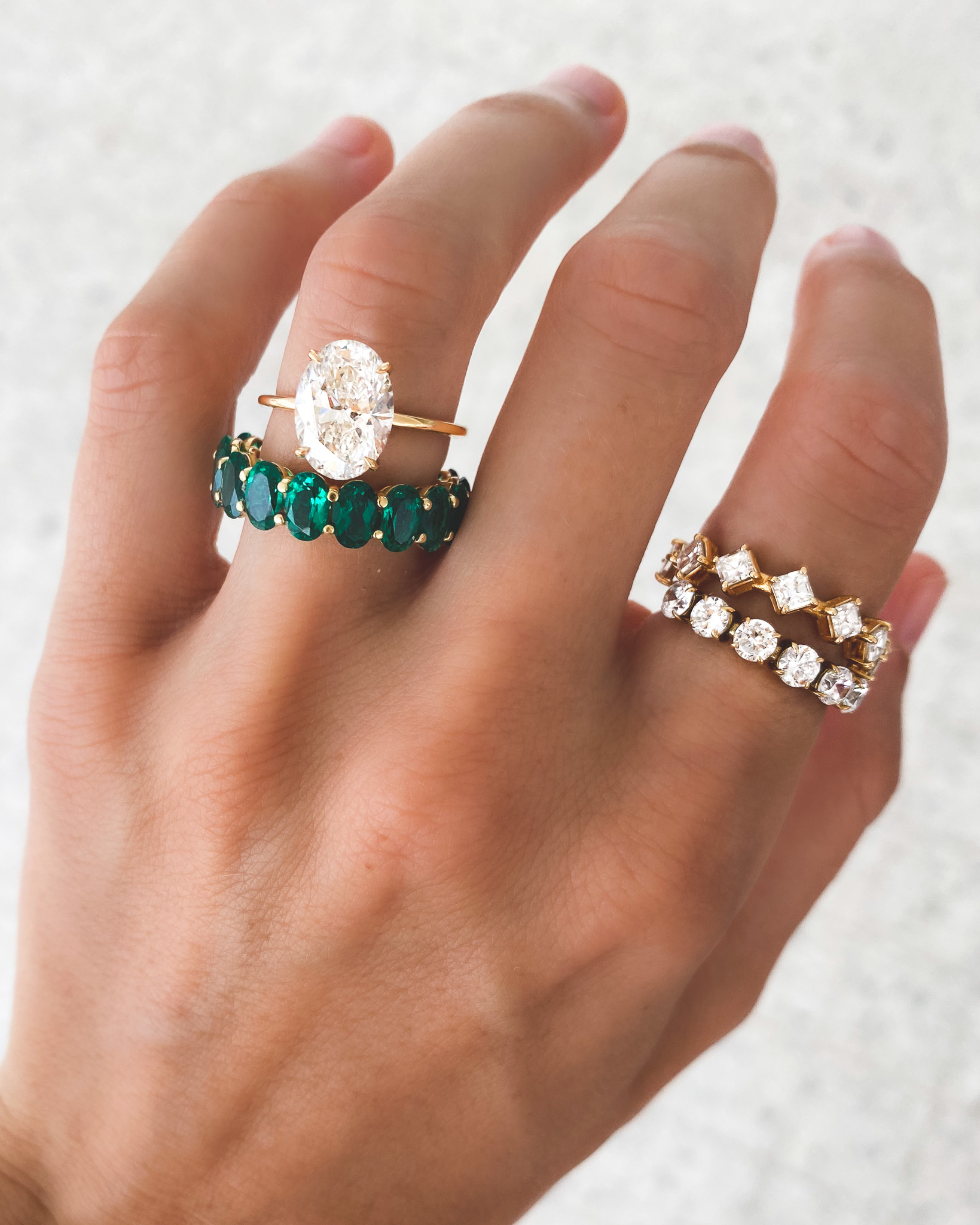 Pairing your ring with a Green Emerald Oval Eternity Band is a simple way to match the shape of your engagement ring while spicing up the stack.
Celebrity Inspiration: Oval Engagement Rings and Wedding Bands
When looking for the ideal set of an oval engagement ring and wedding band, celebrities can be an amazing source of inspiration. Famous figures like Kourtney Kardashian, Ariana Grande, Teresa Palmer, Whitney Port or Hailey Bieber have each found their own unique design which features different styles ranging from vintage to modern or minimalist. Examining these stunning oval rings paired with matching wedding bands may provide all the insight you need to find your unique combination that best suits your individual style and taste!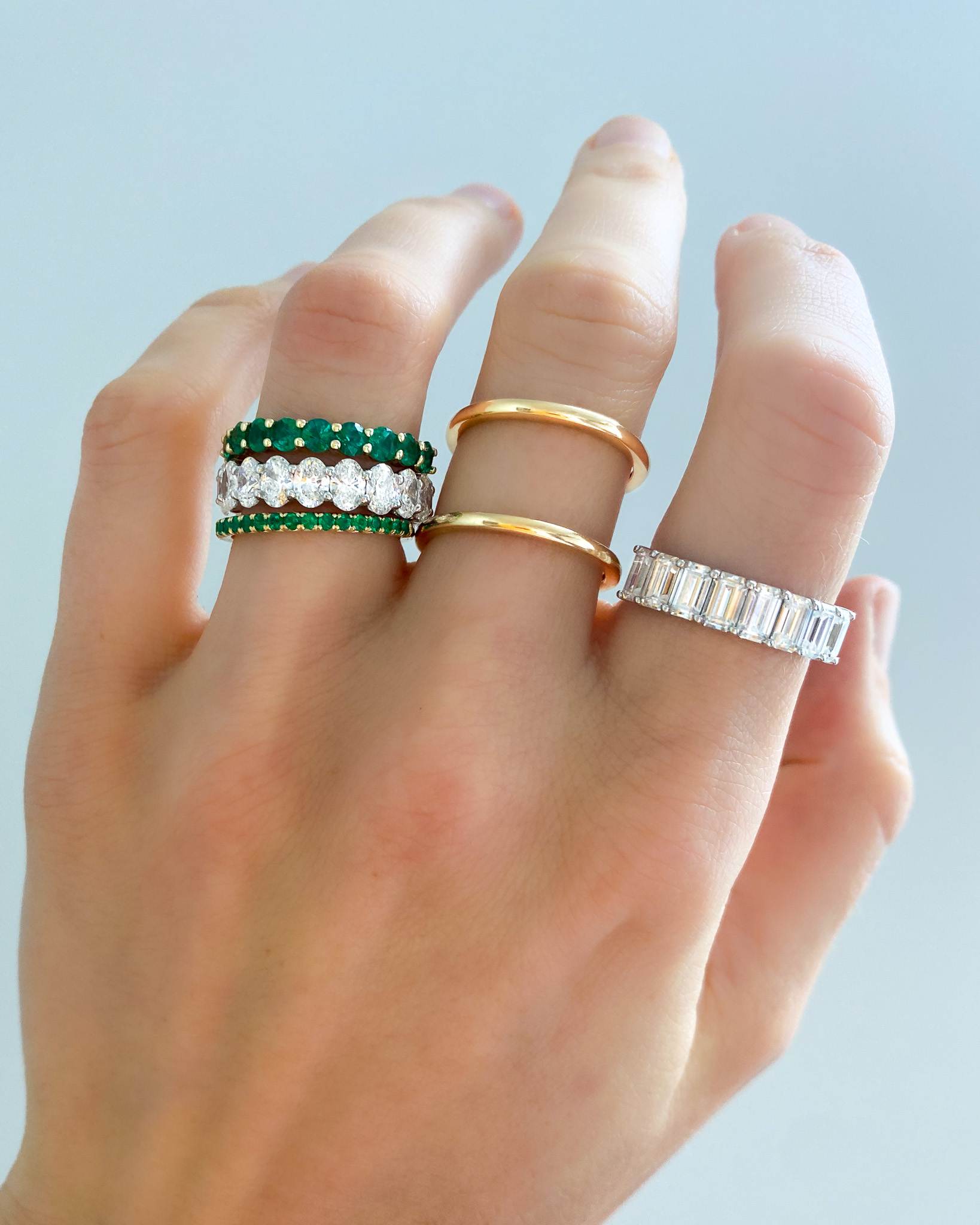 Shopping Tips for High-Quality Oval Engagement Rings and Wedding Bands
When looking for the finest oval engagement rings and wedding bands, it's essential to be aware of diamond quality & spark;e. To help you decide on a gemstone that fits your budget, become familiar with the four Cs - carat weight, cut, color & clarity.
Summary
With all of the styles available, you can make a stunning and timeless combination to reflect your unique love story by selecting a perfect oval engagement ring and wedding band set. It is essential to consider factors such as design, width compatibility with metal type when finding your ideal gold engagement rings together. This guide offers valuable insight on how to customize sets while shopping for quality pieces that best fit your needs.
Frequently Asked Questions
What wedding band to get with oval engagement ring?
For a classic-looking wedding ring set, choose a wedding band with small oval diamonds. The most popular versions are shared prong settings or claw set.
Can I wear my engagement ring with my wedding band?
Absolutely. Most brides choose to wear their wedding band "closest to their heart" or at the bottom of their finger, followed by the engagement ring.
Is oval a good shape for an engagement ring?
Oval engagement rings are becoming increasingly popular due to their elongated shape that appears slimmer on the finger, equal brilliance and fire to a round diamond, plus modern A-listers like Hailey Bieber and Blake Lively wear the diamond shape proudly.
Furthermore, they're still a safe shape as they're different from round diamonds while still looking quite similar.
What does an oval ring symbolize?
The special oval shape of an engagement ring is symbolic of maintaining balance, and honoring tradition while still being unique and individual. It also represents fertility, renewal, and even eternity. As such, this classic silhouette has become a symbol to express devotion between two people in love when they exchange rings. The circle of the same oval cut engagement ring design helps signify these precious values it holds in its timeless form. Keep them alive forever throughout generations that come with time and wear their own clothes.
What factors should one take into account when selecting a wedding band for an oval engagement ring?
When selecting a wedding band to match an oval engagement ring, the style compatibility between them is important. We typically opt for straight wedding bands with small oval diamonds in either shared prong or claw settings.